The Burbank Park District has several gazebos available for rent for your next function. There is a 2 hour minimum.
*Per a Burbank City Ordinance, alcohol is not allowed in outdoor parks or gazebos.
Stevenson Park – 85th & State Road $60 Res.; $70 Non-Res.
Harr Park – 83rd & Laramie $50 Res.; $60 Non-Res.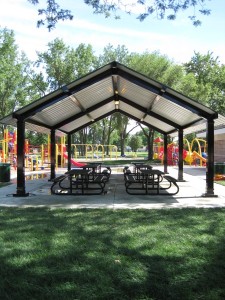 Nottingham $50 Res.; $60 Non-Res.
Owens Park $20 Res.; $25 Non-Res.
You can reserve a date by going to www.burbankparkdistrict.org and logging in to our Online Registration. You may also contact Julie Court at 708-599-3873.