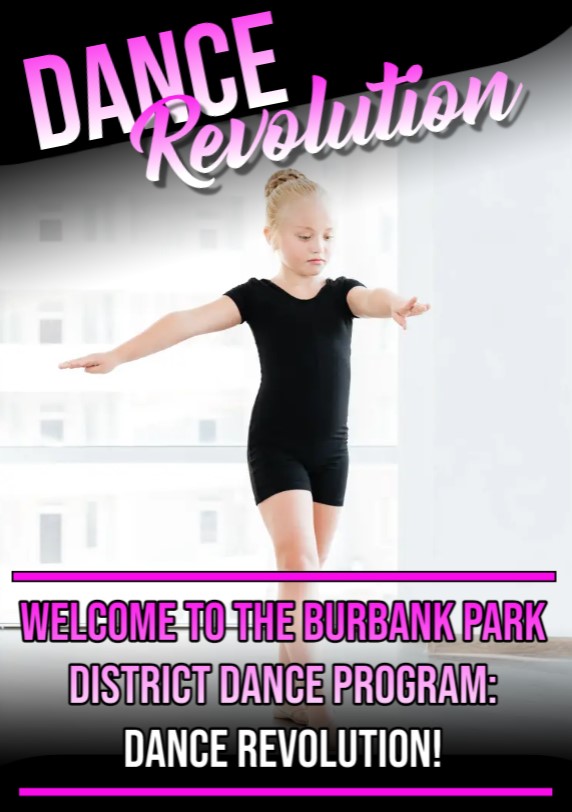 Welcome to the Burbank Park District Dance Program: Dance Revolution! BPD Dance Revolution offers dance classes for children ages 3 and up, as well as adult classes. Classes we offer include ballet, tap, jazz, hip hop, and pointe. All classes are held at our Newcastle Park facility, which features a spacious dance area, sound system, mirrors, and mounted bars.
Why dance? It's so much more than tights and tutus. Dance classes build social skills. Dancers learn to take turns, share attention, and to cooperate with others as they work within a group. Dance classes help build self-confidence and teach participants how to overcome challenges, master new goals, value discipline, and commitment. Creative thinking and problem-solving skills are also developed through dance. Additionally, dance is an opportunity to teach children the importance of being a part of something larger than themselves!
All classes are held at the Newcastle Park Recreation Center.
Limit for all classes: Min. 6 / Max. 10
We will NOT exceed the maximum number per class. If a class is full, you will be asked to register for another day.
A birth certificate is REQUIRED for Creative Movement and Pre-Ballet registration.
*Dancers MUST be registered prior to the start of class.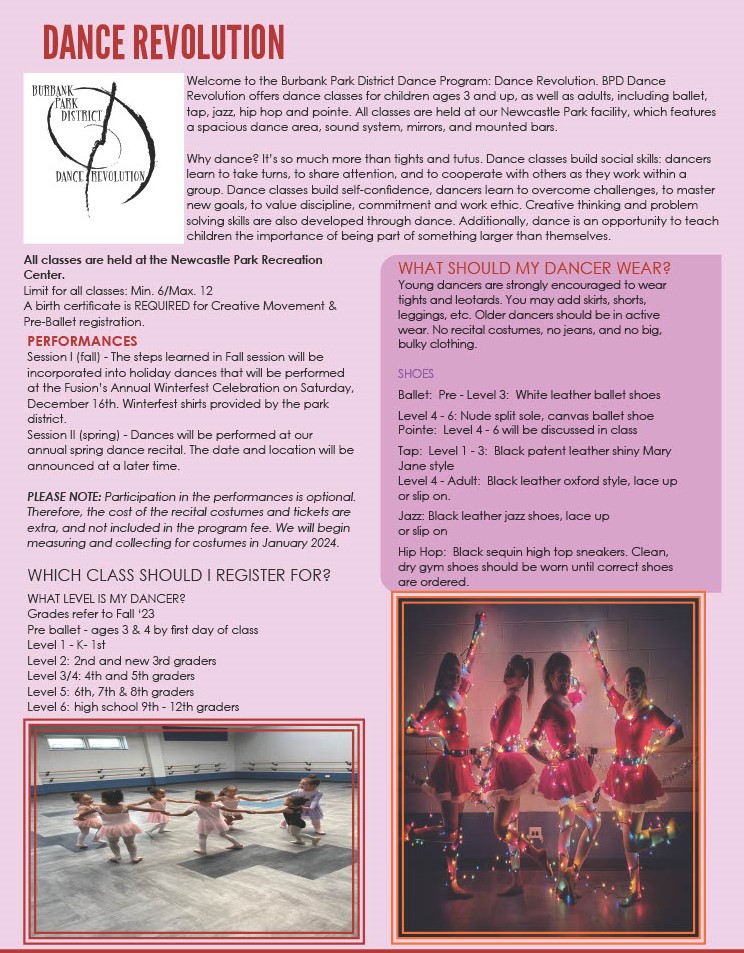 What Should My Dancer Wear to Class?
Young dancers are strongly encouraged to wear tights and leotards. You may add skirts, shorts, leggings, et cetera. Older dancers should be in active wear. No recital costumes, jeans, or big, bulky clothing allowed.
Shoes
Ballet (Pre, Level 1-3): White leather ballet shoes. Fabric slippers are not allowed in class. Socks should be worn until correct shoes can be purchased.
Ballet (Level 4-6): Bloch nude canvas split sole ballet shoes.
Pointe (Level 4-6): Teacher permission only
Tap (Level 1-3): Black patent leather Mary Jane style
Tap (Level 4-6): Black leather oxford style, lace-up or slip-on.
Jazz (Level 2-6) Black leather jazz shoes, lace-up or slip-on.
Hip Hop: Black sequin high top sneakers. Clean, dry gym shoes should be worn until correct shoes are ordered.
FOLLOW and LIKE us on Facebook
@Burbank Park District Dance Revolution

Have Additional Questions?
Contact Miss Natalie
Burbankdancerevolution@gmail.com